Work Weekends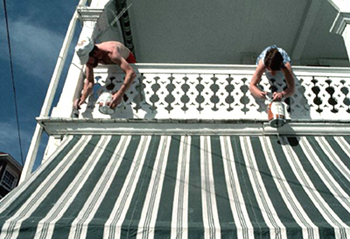 Work Weekends
Featured in The Philadelphia Inquirer
Volunteer Work Weekends - Bring your scraper and join the party!
Many hands make lighter work—enjoy a truly unique weekend painting, landscaping and lending your individual skills in Cape May! Join the legions of Chalfonte volunteers who help us open or close the hotel every season. Work Weekends have created a richly diverse community of volunteers, hailing from far and wide. This is a truly special opportunity to gather with people who are dedicated to the preservation of a grand National Historic Landmark.
We need to get the hotel up and running for the 2015 season, with all of our trusted Work Weekenders. We are grateful for the participation and over whelming results. We could not do it without you.
2015 Work Weekend Dates
April 24 - 26
May 1 - 3 (Limited)
October 30 - November 1
Spring work weekends repair the hotel to open for the season. Projects include localized scraping and painting (shutters, porches, windows, etc.), gardening, general cleaning, and laundry, as well as assisting with various preparation projects for the new season.
Fall work weekends prepare the hotel for season closing and require similar tasks.
We provide two nights accommodations in the hotel and meals from Friday dinner to Sunday lunch in exchange for ten hours of labor (six on Saturday and four on Sunday). A $35.00 non-refundable, non-transferable registration fee per person is required to reserve a space. Participants must be at least 18 years of age.
Check-in for the weekend is begins at 3pm on Friday. We offer soup and sandwiches as a buffett supper from 6-10 pm.
Saturday morning wake up calls begin at 7am. There are no phones in the guest rooms, so this will be a gentle tap on your door. Breakfast is a self-serve buffett at 8am. During breakfast, we will have introductions and assign tasks for the day. Work begins at 9am. We break for lunch at 1pm and resume work at 2pm. Afternoon assignments wrap up around 4pm. Dinner is served at 7pm.
Sunday's schedule is the same as Saturday morning. Projects are completed at 1pm and a lunch buffet is served before you leave.
Please note: Guest rooms are not made up, so you must bring your own linens. We suggest you bring extra layers of clothing as the building does not have heat. You may also want to bring an extra blanket or sleeping bag.
For more information or to sign up for a Work Weekend, please contact Nancy Granick at (609) 884-8409.
$35.00 non-refundable, non-transferable registration fee per person made payable to Chalfonte Hotel:
Chalfonte Hotel
PO Box 475
Cape May, NJ 08204
We look forward to hearing from you!